EAST SIDE ORBITER 2023-2024: BUY YOUR PASSPORT FOR $20 TODAY FOR OVER $200 IN SAVINGS!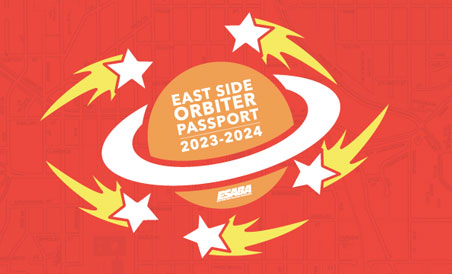 Starting November 25th - Small Business Saturday - you can buy an Orbiter at these locations or online:
11 Wells
Arcade Phalen American Legion
Avenue Shirt Works
Brunson's Pub
Bymore Supermercado
Caydence Records & Coffee
Karibu Grocery & Deli
Kendall's Ace Hardware
Saint Paul Brewing
Storehouse Coffee Bar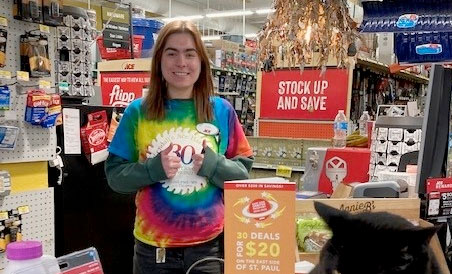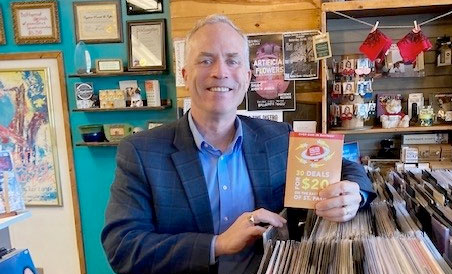 Available by mail or by arrangement for pick-up and for purchase at locations across the East Side. Watch esaba.org for details. We want to make it as easy as possible for you to sample some of the best our side of town has to offer.
Click Here to Buy Now!ESABA is launching the 3rd Ever East Side Orbiter to get you moving! You'll find Buy-One-Get-Ones for food and drink, free teasers, savings on retail dollars spent and freebies to entice you to get around the East Side. Visit some of the tried and true and find new favorites along the way. All in one booklet. All for one low price. Deals are good for a full year!
---
Thanks to our sponsors who are helping us lift up all these East Side Businesses:
Here are some of the businesses in this year's orbiter:
11 Wells • Buy One Cocktail, Get One FREE!
American Legion Post No 77 Acarde-Phalen • Buy One Get One Free! Any Beverage! Ask About our VIP Program!
NEW DEAL - Avenue Shirt Works • 20% Off your Order of $25 or More -
Brunson's Pub • Buy One Get One Free! On Select Taps
Bymore Supermercado • 5% off your purchase of any amount
Caydence Records and Coffee • Enjoy Large for price of a Small - Any Beverage
Culver's • Buy 1 Get 1 FREE - The Culver's Double Deluxe ButterBurger
Cups & Cheers • Buy One Set, Get One Free Eggrolls or Spring Rolls
Cups & Cheers • 10% Off your entire order of $50 or more M - Th Only
East Side Thai • $10 off your order of $50 or more
East Side Pizzeria • Buy 1 Pizza get 2nd for Equal or lesser Value for 50% off
El Guanaco Bakery & Cafe • Free Large Drink with any order over $15
Ho Ho Gourmet • 25% Off Your order of $25 or More (excluding orders of wings)
Karibu Grocery & Deli • Free Soda/bottle of water and 10% off any order
Kendall's Hardware • $5 Off Your Purchase of $20 or More

McKnight's Kitchen & Tap • Buy One Get One Free! Tap Beer
McKnight's Kitchen & Tap • Free Appetizer with Purchase of an Entree
Manana Restaurant • 15% Off $20 or More
Minnesota Music Club, Inc • Admit FREE Any Live Music Event
Mississippi Market • $5 Off $25 Purchase of More
O'Keeffes • 25% Off and Bumper Repair Special
Premium Moving & Storage • 10% Off Moving Services
St. Paul Saints • $5 Outfield Reserve Ticket ($16 Value)
Saint Paul Brewing • 20% off Lunch
Saint Paul Brewing • BOGO! Any Pint
Storehouse Coffee Bar • $1 Off Coffee
Sunray Laundromat • $1 Per Pound Drop Off Wash and Fold
Sunray BP • Free Oil Change - up to 5 quarts - certain models might be extra
Taqueria Los Paisanos • Get Free Beverage with your Order of $15 or More
Tongue in Cheek • Two Free Teasers
Vertical Endeavors, Inc • ½ Price Day Pass: $11 Value!
Yarusso Bros., Inc • BOGO Pasta Dinner Fettuccine, Spaghetti, Ravioli, Mostacolli, Rigatoni
Just Imagine • 10% Off your purchase - excludes clearance items and shoes
Midway Green and Granite • FREE Estimate and Measure of Residential or Commercial Project of Stone surface/Counter tops, 5% off of total for projects $5K and under, Mention Ianni for the Discount
Urban Roots • 1 Free Produce item
EIDS Cleaning & Consulting • 15% off your first service and/or order
Cookie Cart • FREE Cookie with any in-store purchase
Roots Cafe • $1 Off any item
NEW DEAL - Sweet Sensation Bakery • Mexico City Style Pastries Seasonal Cakes $5 Off your order of $40
NEW DEAL - Sweet Sensation Bakery • Mexico City Style Pastries $5 Off full sized Bread Box - fill with pastries of your choice