30 Dishes East Side Eats Global: Italian!
By Leslie MacKenzie
A lot of people are staying close to home these days, but that doesn't mean you can't have a few small ADVENTURES. In this series – #EastSideEats GLOBAL – we'll be sampling a new ethnic cuisine each week from some of the many family-owned restaurants found in one of the oldest areas of St. Paul.
JOIN IN! After a long day at work, you can't beat the convenience of ordering your family's favorite comfort foods or a new taste exploration using delivery or curbside pickup.
MAKE IT SOCIAL! Did you and your coworkers have a lunch ritual of visiting a new restaurant? Keep it up, with a twist. Order lunch delivered to your workplace and split the delivery cost (if there is one). Or place a group order for delivery at the end of the day and now you've got a hot meal to take home.
Tweet it or Instagram it with #EastSideEats and get good karma points for supporting a small business through hard times.
Feed a Big Family!
St. Paul's East Side has long been the place where new immigrants came to build their American dream. In the early 1900s, those dreamers were Italian. They settled on the south end of historic Payne Avenue in places called Swedes Hollow and Railroad Island. For 40+ years, they created a vibrant, close-knit community with church festivals and social clubs, bocce ball games and, of course, food!
These old timers are gone, and their children and grandchildren have moved out into the world (east siders seem to just move further east). But these hard-working immigrants left an indelible mark, and we can see it today on the corner of Payne Avenue and Tedesco Street at Yarusso Bros. Italian Restaurant and Morelli Market (Liquor & Meats).
---
---
635 Payne Avenue, St. Paul, MN 55130
ORDERING: For takeout, order online at www.Yarussos.com or call 651.776-4848. Free delivery is available within a 7-mile radius. Minimum order $50. Use Doordash for delivery.
Immigrant Francesco Yarusso opened the Square Deal Café in 1933. When he retired, it was renamed Yarusso Bros. and passed down to his sons, then his grandsons. Now his great grandchildren also help run the business using the old family recipes.
I stopped by a little before 4 pm, just in time to get the #2 lunch special of spaghetti and a dago for only $9.99. (The small lunchtime menu is served from 11 am to 4 pm, and every dish is a deal at only $9.99. Evening prices range from $10 to $20.)
Before we dig deeper into this saucy delicious meal, we'd better clarify something for folks from the East Coast. In Minnesota, the term "dago" refers to a hot meatball sandwich. It's not an ethnic slur. Despite raising the ire of a St. Paul mayor in 1991, and the Human Rights Department in 2015, the name remains on menus across St. Paul.
I've been on the hunt for an eye-wateringly spicy hot dago ever since Mike's Pinup Bar closed up shop on Arcade Avenue.No one serves up an endurance-test of a dago to match that of Mike Maggi, but if you're trying to please the palate of a family, you've come to the right place.
Yarusso's dago is a BIG, mild-flavored burger in an ample pool of tasty tomato sauce with a cap of steaming mozzarella cheese. The bread doesn't hold up well in this saucy stew so expect to use a knife and fork. Cut it up and serve over the spaghetti and you've got a heaping meal for two, and a hungry kid to boot. Need some spice? They include packets of hot red pepper and ask for a side of jalapeno.
My Italian mother-in-law was expert with calamari (squid) so I had to give Yarusso's calamari a try ($10.76). It's fried in a light, tasty breading and served with a lemon wedge, marinara and a garlic aioli sauce (sooo good). It's not heavy or greasy … just right.
---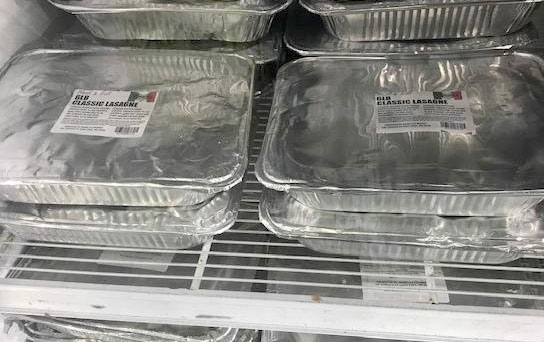 ---
535 Tedesco Street at Payne Ave., Saint Paul, MN 55130
ORDERING: Call 651-774-5961 to curbside pickup. Morelli's does NOT accept credit or debit cards; cash or check only.
Every ethnic community has its grocery stores and meat markets. For St. Paul's historic Italian community two long-lived markets are notable. Cossetta's originally set up shop in 1911 in the Italian neighborhood along St. Paul's Upper Levee, an area demolished in the 1950s. Over on the East Side, Morelli's opened its doors in 1915 and that's where it's been ever since, right across the street from Yarusso's.
While the store now devotes a lot of space to affordably priced liquor – you're going to need that bottle of wine to go with your pasta, eh? – there are still plenty of great Italian meals in store for you.
The deli case looked appetizing, with a mix of olives, pickled vegetables, dried meats and sausages.
I had to try the mixed pepper salad, with 3 kinds of pickled peppers, celery pieces and olives. That and a couple of spicy Sicilian sausages would satisfy my craving for heat.
Feed to feed the 5,000? Morelli's freezer section is jam-packed with pre-made pasta dinners and hand-made pizzas. Talk about convenience!
Morelli's has a "dry goods" section on their website with a variety of imported Italian pastas, sauces, olive oils, vinegars, and Italian desserts (what Italian wedding would be complete without Jordan Almonds?). Morelli's also makes their own signature spaghetti, pizza and BBQ sauces.
More Topics
Dear Business Leaders, I wanted to share a new tool that we launched today, the COVID-19 Vaccine Connector, which will help Minnesotans find out when, where, and how to get their COVID-19 vaccine. The Vaccine Connector is the next step of the state's vaccination strategy to meet Minnesotans where they are and connect the...
The St. Paul Chief of Police sent this message to all our businesses: Dear Saint Paul Business Leaders, I'm writing to make you aware of upcoming events that may affect the safety and operations of your businesses. On Monday, March 8, the high-profile court proceedings involving former Minneapolis police officer Derek Chauvin ar...